In 1982, the Hongos started Christian Vision with the help of Bob and Betty Hicks, two friends who were in their Bible study group. The Hicks provided funds to produce the Hongos' first album, "He Is Alive." Two years later, the Hongos recorded "Lord Of The Islands" which was the first recipient of the Na Hoku Hanohano Award for Best Religious Album Of The Year. With their names becoming known throughout the islands, the Hongos began a fruitful concert ministry. In 1984, the Hongos left their jobs at Kalihi Union Church to serve full-time with Christian Vision.
We have recorded 16 albums, six of which have won the Na Hoku Hanohano Award (the Hawaiian Grammy) for Best Inspirational Album Of The Year. Read about our vision for ministry and what the future holds for Christian Vision. Look and listen to our music online. We sell and deliver by mail  to anywhere in the world. Feel free to view our newsletter here to hear the latest about what God is doing in our lives. Or, if you'd prefer a hard copy, please request by email or write to us.
Gay Hongo (Co-Founder, Board President/Chair, Semi-retired)
My name is Gay Hongo, and I am a singer, music minister, and worship leader from Honolulu, Hawai'i. Randy, and I started Christian Vision, our ministry that allowed us to share our music in live concerts here in Hawai'i, as well as throughout the world. After 35 years of full-time music ministry, Randy went home to be with the Lord, and I am continuing our ministry by God's grace.  After 40 years of full time ministry with Christian Vision I have passed the baton on to Janete Fujiki, who is now the executive director of the Hongo Music Center and is doing a fantastic job.
Janete Fujiki (Executive Director)
Taylor Pagaragan (Staff Serving in Japan)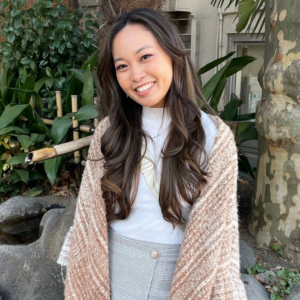 Taylor Rae Asami Pagaragan was born the oldest of five children to Jeff & Kelly Pagaragan and raised in Hawaii until the age of 10 at Kalihi Union Church and Christ Church at Kapolei. They moved to California in 2004 where she served alongside her family both on the worship team and in various other capacities at Bayside Church of Granite Bay. She was baptized in August 2010 with two of her sisters by Randy Hongo after touring with both him and Gay at various Japanese churches in the Greater Sacramento area. After this tour, their family received God's calling to go to Japan as missionaries and were accepted into TEAM (The Evangelical Alliance Mission).
From 2014, she spent seven years in Japan with her family as missionaries, ministering in many different ways both as a family and personally. After graduating from Thomas Edison State University with a BA in Liberal Studies at the age 20, Taylor continued to work several part-time English jobs while continuing to do ministry with her family.
In April 2021, Taylor moved back to Hawaii where she worked with Gay Hongo as Executive Director of the Hongo Music Center at Christian Vision. Alongside her Executive Director duties, she was also greatly involved in leading worship at Kalihi Union Church's Sunday English and Japanese worship services and at various other events and ministries on campus. She also modeled for several local Hawaii brands, and even participated in the 70th Annual Cherry Blossom Festival.
Taylor felt God once again call her back to the country that has held her heart since she was in junior high– Japan. She will once again be working with her family at The Neighborhood Student & Ministry Center in Tokyo, Japan.
Christian Vision was started in 1982. This is our mission statement:
Christian Vision is a non-profit organization that seeks to glorify God by ministering to all people through the performing arts and to spread the Gospel of Jesus Christ using the performing arts for evangelism.
To accomplish the above purposes, Christian Vision has sought to:
Promote the use of performing arts to enhance church worship service
Present the Gospel through live concerts and dramatic presentations
Produce and distribute recordings of Christian music
Provide training and support in the performing arts
Publish Christian music and music-related publications
We are dedicated to fulfilling the mission statement of Christian Vision in the years to come. If you would like to participate in this ministry in any way–as a volunteer, as a prayer partner, or as a financial donor– please use our [contact form] or write to:
Christian Vision,
PO Box 31124
Honolulu, Hawai'i 96820-1124
Thank you very much.
Since 2000, Randy and Gay have had a vision for The Hongo Music Center, dedicated to preparing people to serve the Lord through various performing arts.
In September 2012, Kalihi Union Church offered to incorporate the music center into their new building project. We are excited about this partnership and hope the center will use music and the performing arts to promote the dignity and self-worth of the people of Hawai'i and the residents of Kalihi, one of the lowest income neighborhoods in the United States, by providing life-enhancing creative experiences, all to the glory of God.
Richard Vierra, noted island designer who has created graphics for organizations like Hawai'i Baptist Academy and Sacred Hearts Academy, is collaborating with us on a fundraising campaign. As people contribute gifts, they purchase a "tile" on which may be inscribed the names of loved ones to whom they can dedicated the tile. Several hundred of these tiles will be fashioned by Mr. Vierra into a beautiful image. With Hawai'i Baptist, the stunning image is that a soaring eagle, the school mascot. With Sacred Hearts, the design is a flowering tree, symbolic of the life and growth taking place on the school campus. For Christian Vision, Richard has created a beautiful image of a grand piano.
If you would like to partner with us in this endeavor, we appreciate gifts of any amount; they will go toward running the center and student scholarships. For those who'd like to make a larger donation ($1,000, $2,500, or $5,000), we will commemorate that gift with a tile (of various sizes) in the completed music center. If you wish to give to The Hongo Music Center, please click here and download the PDF file, fill it out, and mail to:
Christian Vision
P.O. Box 31124
Honolulu, HI 96820
Email address: rghongo@hotmail.com
Thank you for your love and support of this ministry.
Aloha in Jesus,
Gay Hongo
Randy was born in Hilo, Hawai'i and graduated from Hilo High School in 1965. He received a B.A. in English from the University of Hawai'i in 1969 and graduated with a Master of Church Music from Southern Baptist Theological Seminary in Louisville, Kentucky in 1978. Randy became a Christian at age 16 through the Youth For Christ ministry at Hilo High School. In 1994, Randy became an ordained minister through the Evangelical Free Church of America.
Gay was born in Tokyo, Japan, and moved to Hawai'i with her family in 1953. Raised in the sugar plantation town of Waipahu, Gay graduated from Waipahu High in 1965 and from the University of Hawai'i in 1970 with a Bachelor of Secondary Education in Music. She earned her professional diploma in education in 1971. Gay became a Christian at age 20 through the outreach ministry of Kalihi Union Church.
Randy and Gay married in 1971 and moved to Hilo where Randy worked at Haili Congregational Church and Gay was a choir teacher at Hilo High School. In 1975, the Hongos moved to Louisville, Kentucky where Randy attended Southern Seminary to study church music, and the Hongos found many opportunities to share their songs of aloha in churches, schools, and convention halls throughout the south. Their only child, Andrew Keola Kiyohiko, was born in Louisville in April 1978, two months before Randy graduated from seminary. Randy and Gay lived in Louisville for another two years and decided to move back to Hawai'i in August 1980 after, they jokingly say, "Andrew started to say 'aloha y'all.'"
Gay Hongo is a singer, music minister, and worship leader from Honolulu, Hawai'i, serving through a mission called Christian Vision. She and her late husband, Randy, started the ministry in 1982, and for 35 years took their songs of aloha throughout Hawai'i and around the world. Prior to entering this ministry, Randy was the music director at Kalihi Union Church. Gay, having taught choir in Hawai'i public high schools, was a pre-school teacher at Kalihi Union.
In 2011, Randy was diagnosed with multiple myeloma. The Hongos went to the City of Hope, a hospital in Duarte, California specializing in cancer treatment, for a year of treatment and recovery, during which Randy experienced miraculous healing. For the next five years, the Hongos continued to sing, minister, and travel, until Randy went home to be with the Lord in December of 2017.
Gay has continued the ministry by God's grace and continues to stand upon Psalm 100:1, the foundational verse for Christian Vision: "Make a joyful noise unto the Lord all ye lands." She is grateful to the Lord for the production of sixteen recordings, six of which have won the Na Hoku Hanohano Award. The Hongos have shared the Gospel through music in many lands — Japan, Hong Kong, Korea, Taiwan, Australia, Canada, Brazil, Europe, South East Asia, and throughout the United States. They ministered as the Lord Jesus led them, grateful for the privilege of serving the Master and proclaiming His truth and goodness to all people.
Christian Vision is currently raising funds to build and operate a performing arts center on the grounds of Kalihi Union Church. They want to train the next generation of God's musicians and creative artists for service to the Kingdom.
Randy and Gay's son, Andrew Keola Kiyohiko Hongo, is a 1996 graduate of Punahou School, a 2000 graduate of Yale University with a Bachelor of Arts in English, and a 2011 graduate of New York University with a Master's in Broadcast Journalism. On December 31, 2017, Andrew married Meaghan Kingsley-Teem. The couple lives in Northern California, where Meaghan is a pediatrician and Andrew is a professor of journalism.