We are Randy and Gay Hongo, singers and music ministers from Honolulu, Hawaii. We work through an organization called Christian Vision, sharing our music in live concerts here in Hawaii as well as throughout the world.
We have recorded 16 CD's' six of which have won the Na Hoku Hanohano Award (the Hawaiian Grammy) for Best Inspirational Album Of The Year.
Read about our vision for ministry and what the future holds for Christian Vision. Look and listen to our music online. We sell and deliver by carrier to anywhere in the world. View our upcoming tour dates, as well as news on recent concert events.
On December 28, 2011, Randy started chemotherapy treatment for multiple myeloma cancer at the City of Hope Hospital in Duarte, California. The Hongo family will be living in Duarte until the end of treatment, expected to be in July. Your prayers for Randy are much appreciated. To keep current with his progress, you may go to the patient website: www.caringbridge.org. Enter your email address and a password and you will be able to be a part of this online support group.
Christian Vision was started in 1981 with the following as its mission statement:
"Christian Vision, Inc. is a religious non-profit corporation organized to spread the gospel of Jesus Christ through the support and promotion of Christian music endeavors; and to glorify God by ministering to His people through the medium of music."
To accomplish the above purposes, Christian Vision has sought to:
Randy and Gay have dedicated themselves to fulfilling the mission statement of Christian Vision in the years to come. If you would like to participate in this ministry in any way–as a volunteer, as a prayer partner, or as a financial donor– please [use] our [contact form] or write to:
Christian Vision, PO Box 31124
Honolulu, Hawaii 96820-1124
Thank you very much.
HONGO MUSIC EDUCATION CENTER
Randy and Gay Hongo have had a vision since December 2000 for The Hongo Music Education Center, a place where musicians can gather to learn about music and prepare for service to the Lord Jesus Christ.
In September 2012, Kalihi Union Church generously offered Christian Vision a plot of land on the church campus at 2214 North King Street. Since that time, we and a small committee have been strategizing and planning a fundraising campaign to raise money to build The Hongo Music Education Center.
Here are some details about this new endeavor.
FUNDRAISING ASSISTANTS:
Chuck McLemore, Sherry Robinson and Beth Lum of Creative Fundraising Associates, LLC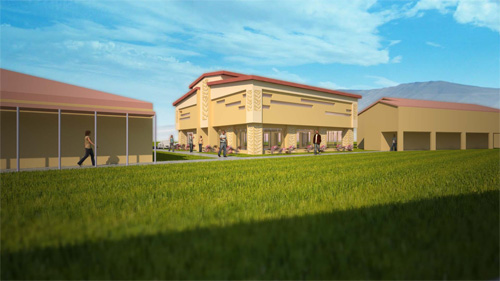 The first phase of the fundraising campaign involved reaching out to island foundations, sharing our vision and requesting grants. We are waiting to hear from these foundations, trusting that the Lord will speak to some of them about partnering with us on this worthy project.
The second phase of fundraising will begin this spring as we reach out to individuals and families who may want to contribute specific amounts and allow them a way to honor and memorialize loved ones. We have contacted Richard Vierra, noted island designer, who has created graphics for organizations like Hawaii Baptist Academy and Sacred Hearts Academy. As people contribute gifts, they purchase a "tile" on which may be inscribed the names of loved ones to whom they can dedicated the tile. Several hundred of these tiles will be fashioned by Mr. Vierra into a beautiful image. With Hawaii Baptist, the stunning image is that a soaring eagle, the school mascot. With Sacred Hearts, the design is a flowering tree, symbolic of the life and growth taking place on the school campus.
For Christian Vision, Richard will create something musical – perhaps a grand piano with musical notes emanating from its interior. We are awaiting his final design.
There are three amounts that donors can give: $5,000, $2,500 and $1,000, with the different amounts corresponding with various size tiles. We are grateful for whatever gifts people are able to give to The Hongo Music Education Center.
Larger gifts can also be given with naming opportunities available for the donor: large practice rooms, small practice rooms, a rehearsal facility, a music library, the main office, and a multi-purpose studio can all be named in honor of loved ones for gifts of $15,000 and above.
We are confident that the Lord will raise the necessary funds for this, His Music Education Center. In years to come, we trust that the Hongo Music Education Center will be a place where the Lord's name will be glorified, where people will come to learn about and appreciate music, where preparation can be made for a life of musical service to the Lord Jesus Christ, and where people of all ages can truly experience the joy of making music in a positive, life-enhancing environment.
If you wish to give to The Hongo Music Education Center, please click here and download PDF file, fill it out and mail to:
Christian Vision, P.O. Box 31124, Honolulu, HI 96820.
Phone numbers: 834-1000 (home), 286-1778 (cell)
Mailing address: P.O. Box 31124, Honolulu, HI 96820
Email address: rghongo@hotmail.com
Thank you for your love and support of this ministry.
Aloha in Jesus,
Randy and Gay Hongo
Randy and Gay continue to perform in assorted live performances in Hawaii, throughout the mainland U.S. and around the world. They sing in churches, hotels, hospitals, nursing homes, schools, shopping centers, on television, over the radio–wherever the opportunities present themselves for the Hongos to share their music. They have performed at various events, including the 1998 National Prayer Breakfast in Washington, D.C. Their travels have taken them to 42 states, England, Scotland, Wales, Austria, Germany, Switzerland, Austrailia, Hong Kong, Korea, Taiwan, Japan, Canada, and Brazil.
The Hongos have extensive experience in recording, producing and distributing recordings. They have produced fourteen recordings on cassette and in compact disc form, six of which have won the Na Hoku Hanohano Award (the Hawaiian Grammy) for Best Religious Album of the Year. They plan to record two albums in the coming year.
To hear their music and to purchase their CD's or cassetes, please visit our Music page.
The Hongos are music teachers at heart, both having degrees and extensive experience in this area. They have worked with individual church musicians as well as conducted seminars for choirs and praise teams in their desire to prepare others for the work of the Lord.
In 1988 and 1989, Christian Vision sponsored Music Camp, a three-day conference for church musicians that attracted several hundred delegates.
Randy and Gay have also worked in the secular field by helping young women in their talent preparations in different beauty pageants: among their students have been Carolyn Sapp, Miss America 1991; Brook Lee, Miss Universe 1997; Libby Lum, Narcissus Queen, 2000; and former Miss Hawaiis Erika Kauffman, Pamela Kimura and Cheryl Toma.
One of the goals of Christian Vision is publishing original compositions of Christian music. That goal was met in 1999 by the printing of our first portfolio. a collection of all original Christmas music entitled Christmas In The Islands. Songs included in the collection are:
Christmas, Hawaiian Style
Christmas In The Islands Again
Coming Home For Christmas
Good News
Hallelujah, He Is Born
Rejoice
Ua Hiki Mai Ke Ali'i
We May Not Have Snow
The Hongos plan to publish at least two more songbooks of original non-Christmas songs, but with printing costs being prohibitive and other recording projects assuming top priority, these future publications have been placed on hold.
However, if an individual songsheet of any of the Hongo's songs is desired, please feel free to contact the Hongos. Many of their songs have been transcribed into songsheet form, and if your desired song is available, the Hongo's would be more than happy to print a copy and send it to you. Please contact Randy and Gay if you have such a request.
Christian Vision
P.O. Box 31124
Honolulu, HI 96820
rghongo@hotmail.com
Phone: (808) 834-1000
FAX: (808) 834-7840
Or, use our online Contact Us [form].
To order our songbook, please use our Ordering page. Thank you!
Randy and Gay Hongo are music ministers from Honolulu, Hawaii, serving through a mission called Christian Vision. They have been in full-time service for the Lord since 1982, taking their songs of aloha throughout Hawaii and around the world. Prior to entering this ministry, Randy was music director at Kalihi Union Church. Gay, having taught choir in Hawaii public high schools, was a pre-school teacher at Kalihi Union.
Today, thirty-five years after Christian Vision was born, Randy and Gay Hongo continue to stand upon Psalm 100: 1 that is the foundational verse for their ministry: "Make a joyful noise unto the Lord all ye lands." They are grateful to the Lord for the production of nineteen recordings, six of which have won the Na Hoku Hanohano Award. They have shared the Gospel through music in many lands — Japan, Hong Kong, Korea, Taiwan, Australia, Canada, Brazil, Europe, South East Asia, and throughout the United States. They minister as the Lord Jesus leads them, grateful for the privilege of serving the Master and proclaiming His truth and goodness to all people. The Hongos are currently raising funds to build a music school, the Hongo Music and Life Center, on the grounds of Kalihi Union Church. They want to train the next generation of God's musicians and creative artists for service to the Kingdom.
Randy and Gay's son Andrew Keola Kiyohiko is a 2000 graduate of Yale University with a Bachelor of Arts in English and a 2011 graduate of New York University with a Master's in Broadcast Journalism.
On December 31, 2017, Andrew married Meaghan Kingsley-Teem. The couple live in Mobile, AL, where Meaghan is about to complete her medical residency in pediatrics. Andrew and Meaghan will soon be moving to Northern California, where Meaghan will be a pediatrician in the Modesto area and Andrew will be a professor of broadcast journalism at San Francisco State University.
Randy was born in Hilo, Hawaii and graduated from Hilo High School in 1965. He received a B.A. in English from the University of Hawaii in 1969 and graduated with a Master of Church Music from Southern Baptist Theological Seminary in Louisville, Kentucky in 1978. Randy became a Christian at age 16 through the Youth For Christ ministry at Hilo High School.
Gay was born in Tokyo, Japan and moved to Hawaii with her family in 1953. Raised in the sugar plantation town of Waipahu, Gay graduated from Waipahu High in 1965 and from the University of Hawaii in 1970 with a Bachelor of Secondary Education in Music. She became a Christian at age 19 through the outreach ministry of Kalihi Union Church.
Randy and Gay married in 1971 and moved to Hilo where Randy worked at Haili Congregational Church and Gay was a choir teacher at Hilo High School.
In 1975, the Hongos moved to Louisville where Randy attended Southern Seminary to study church music and the Hongos found many opportunities to share their songs of aloha in churches, schools and convention halls throughout the south. Their only child, Andrew Keola Kiyohiko, was born in Louisville in April 1978, two months before Randy graduated from seminary. Randy and Gay lived in Louisville for another two years and decided to move back to Hawaii in August 1980 after, they jokingly say, "Andrew started to say 'aloha y'all.'"
In 1981, the Hongos started Christian Vision with the help of Bob and Betty Hicks, two friends who were in their Bible study group. The Hicks provided funds to produce the Hongos' first album, "He Is Alive." Two years later, the Hongos recorded "Lord Of The Islands" which was the first recipient of the Na Hoku Hanohano Award for Best Religious Album Of The Year. With their names becoming known throughout the islands, the Hongos began a fruitful concert ministry. In 1984, the Hongos left their jobs at Kalihi Union Church to serve full-time with Christian Vision.