Album: One Ohana in Jesus
One Ohana in Jesus
This is the Day
Great and Eternal God
I Trust You Jesus
Kalihi Union Church
We Are Your Church
Days of Elijiah
They Prayer
Rest in Me, My Child
Vietnamese Song
I Hold His Hand
Under the Hawaiian Sun
You Raise Me Up
Lokomaika`i He Nani 14/No Your Someday is Today
At Calvary
Almighty God
Album: God Is In Control (2001)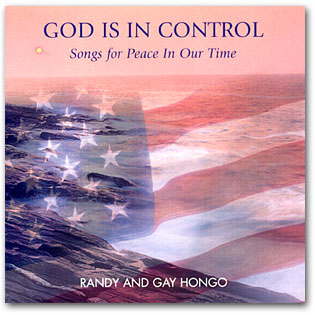 Songs for peace in our troubled times, includes the title song which Randy wrote when he visited New York a week after the terrorist attacks.
The Tragic events of September 11 have changed our lives forever. The security we've always known of living in a free and seemingly invincible land has been replaced by fear for our personal safety and concern for our economy, our lifestyle, and our future. But we can take heart in knowing that we have an omnipotent God who assures us in John 16:33: "…In the world you shall find tribulation, but be of good cheer for I have overcome the world." Our Heavenly Father has claimed the ultimate victory in the eternal battle between good and evil. If we remember that truth, we can be at peace and experience His absolute security, even in the most troublesome times – and we can rejoice that our God is firmly in control of all things.
In His Peace, Randy and Gay
(Released 2001)
GOD IS IN CONTROL
God Is In Control
America The Beautiful
If My People/God Bless America
He Is Our Peace
God Bless The USA
Amazing Grace
Iesu No Ke Kahuhipa
Because He Lives
His Name Is Jesus
You'll Never Walk Alone
Album: Our Best to You, Vol. 1 & 2 (2000)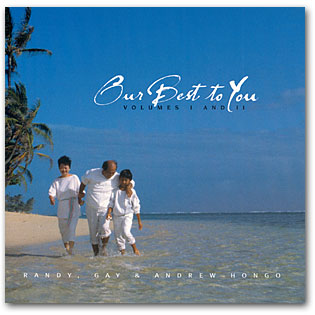 A double-CD collection of the Hongo's favorite songs from their first ten recordings, including two songs by son Andrew with his Yale a cappella choirs.
We first released Our Best To You, Volume I, in 1991, a collection we felt represented the best songs recorded in our first ten years of ministry.
In the time since then, people have often said they wished other "favorites" had been recorded in that collection.
So now, after an additional five recordings have been produced, we've chosen a second group of songs for Volume II, and have created our first double-CD set. We hope you enjoy this compilation, but realize that there still may be others songs you wish we had included. Maybe in another ten years…
Warmest aloha, Randy, Gay, and Andrew
(Released 2000)
| | |
| --- | --- |
| Volume I | Volume II |
| Lord Of The Islands | To The Ends Of The Earth |
| When Two Become One | Home Is With The Father |
| It Was His Love | Sufficient Is Your Grace |
| Never Far From Home | I'd Rather Have Jesus |
| In The Garden | Lord, You Know Me |
| Song From Habakkuk | Don't Forget Us |
| Aloha Ke Akua | The Friends Medley |
| Beautiful Islands | Good Thing Going |
| Together Forever | A New Song In The Islands |
| In His Time | He Looked Beyond My Fault |
| River Of Peace | Path Of The Righteous |
| Submission | Love You More |
| Pleasant Places | Come Home |
| How Great Thou Art | He Is Not Here |
| Blessed | My Tribute |
Album: Christmas in the Islands (1999)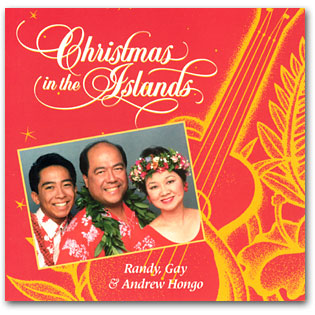 Well-known Christmas carols and Hawaiian-style holiday songs.
The Christmas songs in this collection have been gathered from three previously released recordings: REJOICE! IT'S CHRISTMAS (1985), HOME IS WITH THE FATHER (1993), and COMING HOME FOR CHRISTMAS (1996). We hope they bring much holiday cheer and blessing as you listen to them over the years. Merry Christmas from our house to yours!
Randy, Gay and Andrew Hongo
(Released 1999)
Christmas In The Islands Again
Ua Hiki Mai Ke Ali'i
What Child Is This?
The Friendly Beasts
Rejoice
We May Not Have Snow
O Come, All Ye faithful
Christmas At Our Town
O Little Town Of Bethlehem
Silent Night
The Lord's Prayer
Good News
Coming Home For Christmas
Christmas, Hawaiian Style
Hallelujah! He Is Born!
Album: A New Song in the Islands (1998)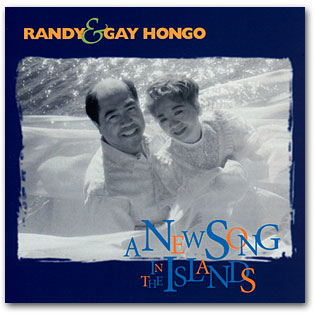 Original, and contemporary Christian songs with an island flavor.
"He put a new song in my mouth, a hymn of praise to our God. Many will see and fear and put their trust in the lord." (Psalm 40:3)
We thank God for the songs in this collection that we are honored to sing. Some are in new musical idioms and tempos, others are more traditional and the kind you've enjoyed hearing us sing for the past thirty years. Whatever the musical style, the new song we all should sing in our hearts is the praise song of the sinner redeemed by God's grace and growing daily in the grace and knowledge of the Lord Jesus. Our prayer is that all who listen to this recording will be drawn closer to the living Lord Jesus and give their lives in obedience to Him.
Randy and Gay
(Released 1998)
A New Song In The Islands
Your Praise
Sufficient Is Your Grace
Acts 16:31
God's Ohana
My Tribute
Let Us First Love God
Love You More
I Run For My Father
We Worship You
Album: Another Island Christmas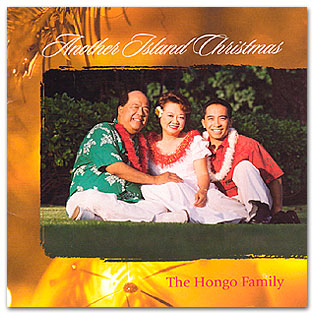 Praise songs and hymns in the Japanese language. Includes the well-known folk songs "Kojo No Tsuki" and "Basho Fu" and a spirited version of "Pearly Shells."
The Hongos' latest Christmas CD with four brand-new compositions along with holiday favorites like "Joy To The World," "Do You Hear What I Hear?" and "Let It Snow, Let It Snow, Let It Snow."
ANOTHER ISLAND CHRISTMAS
The Most Wonderful Time Of The Year
Another Island Christmas
Do You Hear What I Hear
Christmas In Hilo
Hark! The Herald Angels Sing
O Holy Night
Joy To The World
Let It Snow, Let It Shine
Local Kine 'Tings
Christmas Is For Children
My Sheep Were Grazing
I Wonder As I Wander
When Love Was Born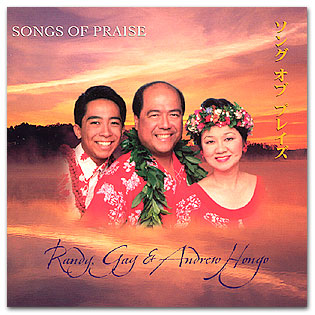 The Hongos' latest Christmas CD with four brand-new compositions along with holiday favorites like "Joy To The World," "Do You Hear What I Hear?" and "Let It Snow, Let It Snow, Let It Snow."
As we sing in one of the songs on this new CD, "Shu wa michi o hibi tsukurareru – God will make a way…" God continues to work in our lives as He uses us to share His Good News in song to the ends of the earth. From Tokyo, Japan to Hilo, Hawaii to California, Colorado, New York and points in between, God has given many memorable experiences of people being blessed and touched by His spirit as we have sung His praises. We thank Him that He has indeed "made a way" for this – our second collection of Japanese gospel songs – to become a reality. As a bonus, we've added three Japanese classical folk songs that we often perform in concert. May these songs of praise be a blessing to your heart.
Songs of Praise
Crown Him With Many Crowns
I Worship You Medley
Sufficient Is Your Grace
He Is Exalted
Power Of Your Love
Amazing Grace
People Need The Lord
The Lord's Prayer
God Will Make A Way
Hosanna/Shine Jesus Shine
Softly And Tenderly
Shout To The Lord
As The Deer Panteth
We Worship You
Savior, Like A Shepherd
Pearly Shells/Hallelujah
Kojo No Tsuki
Jo Ga Shima No Ame
Bashofu
To The Ends Of The Earth
Album: Christmas in the Islands Songbook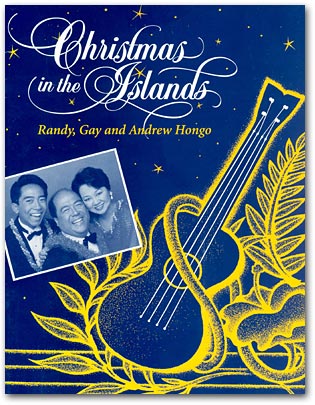 All original Christmas Songs in a beautiful
book for your playing and
singing enjoyment.
As all who live in these islands know and cherish, there is somethig special about Christmas in Hawaii Nei. We may not have the snowy days and other wintry trappings that our mainland cousins have; but the flurry of activities, the trees and decorations that brighten our homes, and the increase of kindness and aloha being shared during the closing weeks of the year all add up to a benevolent, joyful season – enjoyed in the balmiest, most perfect climate on earth.
These songs are meant to add to your Christmas celebrations. may you perform them to the delight of family and friends, always remembering that Christmas is about God sending light, love and peace to all people through His son Jesus Christ.
Mele Kalikimaka!
Randy, Gay & Andrew
CHRISTMAS IN THE ISLANDS SONGBOOK
Christmas, Hawaiian Style
Christmas In The Islands Again
Coming Home For Christmas
Good News
Hallelujah, He Is Born
Rejoice
Ua Hiki Mai Ke Ali'i
We May Not Have Snow